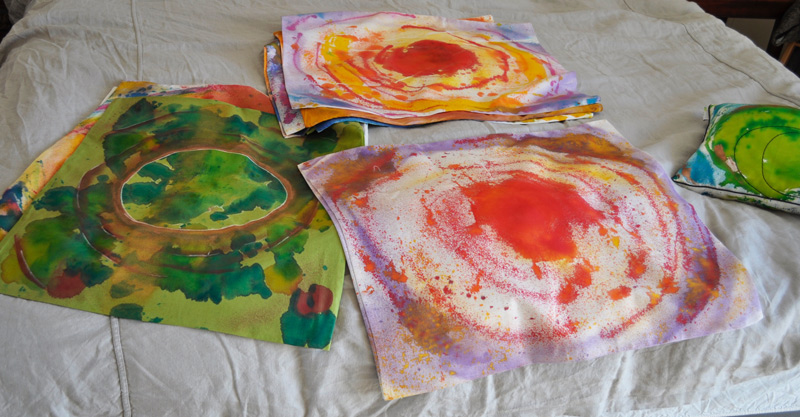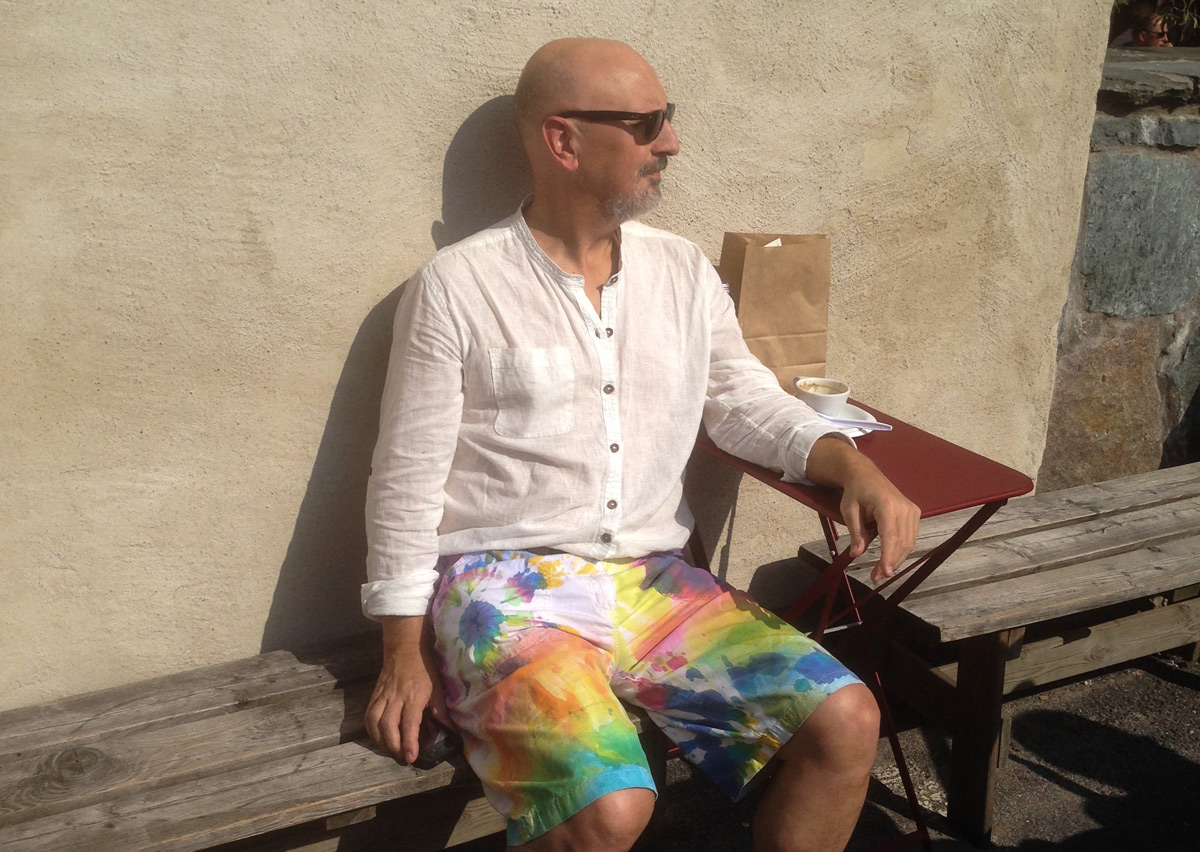 In 2013, working intensely with realizing dormant dreams and desires, I had the good fortune of getting my hands on a fantastic, forest-green VW van of model T3 with a teak interior. That summer, traveling in my van to Falun, where I worked as a cook at a painting retreat organized by mandala artists Erik & Ann-Marie Grind; to a music festival in Småland, and to Stockholm and Karlskrona, I was inspired to make a series of rainbow-colored works – a series of small acrylic paintings, art cards and hand-painted textiles. My hair got a touch of the rainbow-color spectrum, inspired by the technicolor presence of my friend and multi-talented artist, therapist, entrepreneur Andrea Shanti at Flying Rainbow Farm in Mount Shasta, CA, and people kept ordering custom-made sheets and pillow cases having spotted one at somebody's house. Maybe the rainbow-phase would and should last more than a summer? My friend's daughter jokingly suggested the name Rainbow Traveler for me, but it stuck with me. It seemed an excellent label for my traveling, painting saleswoman alter ego. I had also spent a lot of my life on the move, lived in many places,  visited many countries and people, and my PhD thesis was about "women on the road". It was a good name indeed.
Now, I make any type of textile – mainly sheets and pillow cases, table mats, but curtains and bathroom rugs can be ordered, as well as tank tops, t-shirts and shorts – if you want your own tie-dyed, hand-painted sheets or rest your head on an explosion of colors, email me for a discussion of options and costs, see Rainbow Traveler Textiles below.
Rainbow Traveler Textiles & Mandala art
Custom crafted, handprinted and tie-dyed sheets, linens, curtains, shorts, tank tops. I take commissions for any hand-painted or dyed artefact.
Custom made Mandala Art cards, and arycil paintings are available for purchase. Or commission a mandala to your own specifications. Don't be afraid to contact me! Signed Art Cards are 100 SEK/ card w envelope, and pillow cases are 350 SEK incl tax. Just e-mail me and ask. 
E-mail: jess@gefionarthouse.com